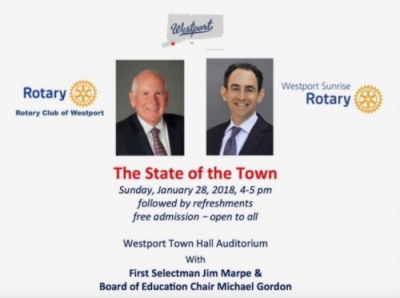 On January 28, 2018, First Selectman Jim Marpe and Board of Education Chair Michael Gordon spoke regarding "The State of the Town."  The event was held at Town Hall and sponsored by the Rotary Club of Westport and Westport Sunrise Rotary.  Couldn't make it to the event?  There are videos of Mr. Gordon and Mr. Marpe's speeches below.  In the final video, both speakers address the following three(ish) questions:
Sexual harassment has been a big issue at Staples recently, as has vaping.  Can you comment on that?
Where is the state/local tax-deduction issue headed?  How will the new mall being built in Norwalk affect downtown shopping in Westport?
What progress is being made in consolidating the budgets of the Board of Education and the town?  What measures are you looking at for the future?
Here's the speech from Board of Education Chair, Michael Gordon:
Here is the speech from First Selectman, Jim Marpe:
And here is the short Q&A session: